There are of course many good reasons to visit a family farm with children, and many of them are obvious: children love animals; they have a natural urge to move, an endless imagination and a curiosity that motivates them to get to the bottom of mysteries. Where better to do this than on a spacious area with curious goats, funny pigs, sweet donkeys and ponies, proud peacocks, tame sheep, cuddly guinea pigs and sugar-sweet chicks, but also herb gardens, strawberry fields for self-picking, workshops, tractors and plenty of fun stuff to play with?
Apart from all the exciting fun that awaits children on a family farm, however, there are also a whole range of other reasons why parents, educators and scientists increasingly regard a visit with children to a farm as more than just a popular escape from everyday life. We have compiled 7 of these reasons for you.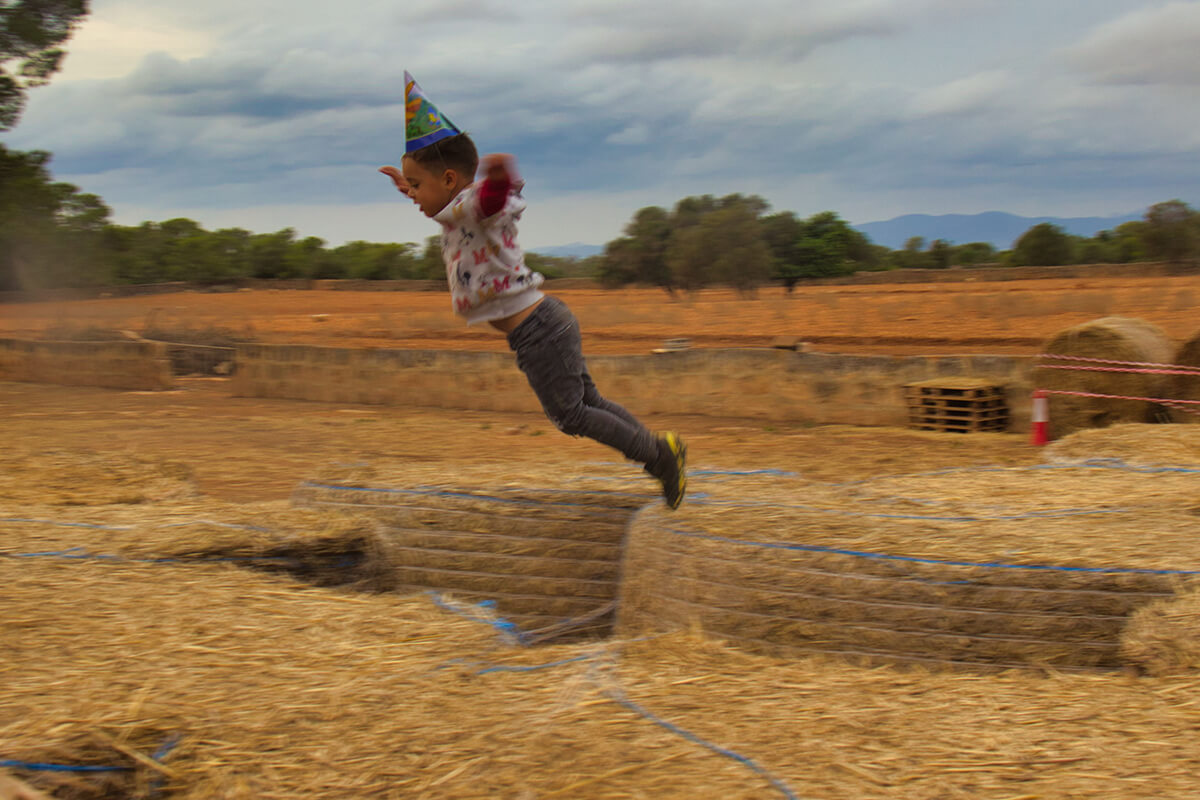 1 Visiting a family farm promotes mental and physical health
The childhood and adolescence of the so-called digital generation looks very different from that of their parents. Today' kids increasingly spend a large part of the day gaming and preparing homework in front of screens. No time for coming home happily exhausted with red cheeks, worn-out clothes and some mud on their foreheads after playing in the open air. The consequences are statistically visible: depression, a tendency to aggressive behaviour, concentration problems, a lower frustration threshold, obesity, postural defects and short-sightedness.
On a family farm, city children in particular get what they all too often lack for healthy development. Here, as rarely before, they have the space and opportunity to move around to their heart's content in the open air, to let their gaze wander into the distance, to play, romp and discover all that is exciting about the analogue world. They make new friends and invent games that fire their imagination and help to reduce stress and aggressive behaviour. At the same time, they acquire important skills through play that help them deal with challenges better later in life. What are you waiting for? Get out of the digital world and step into nature!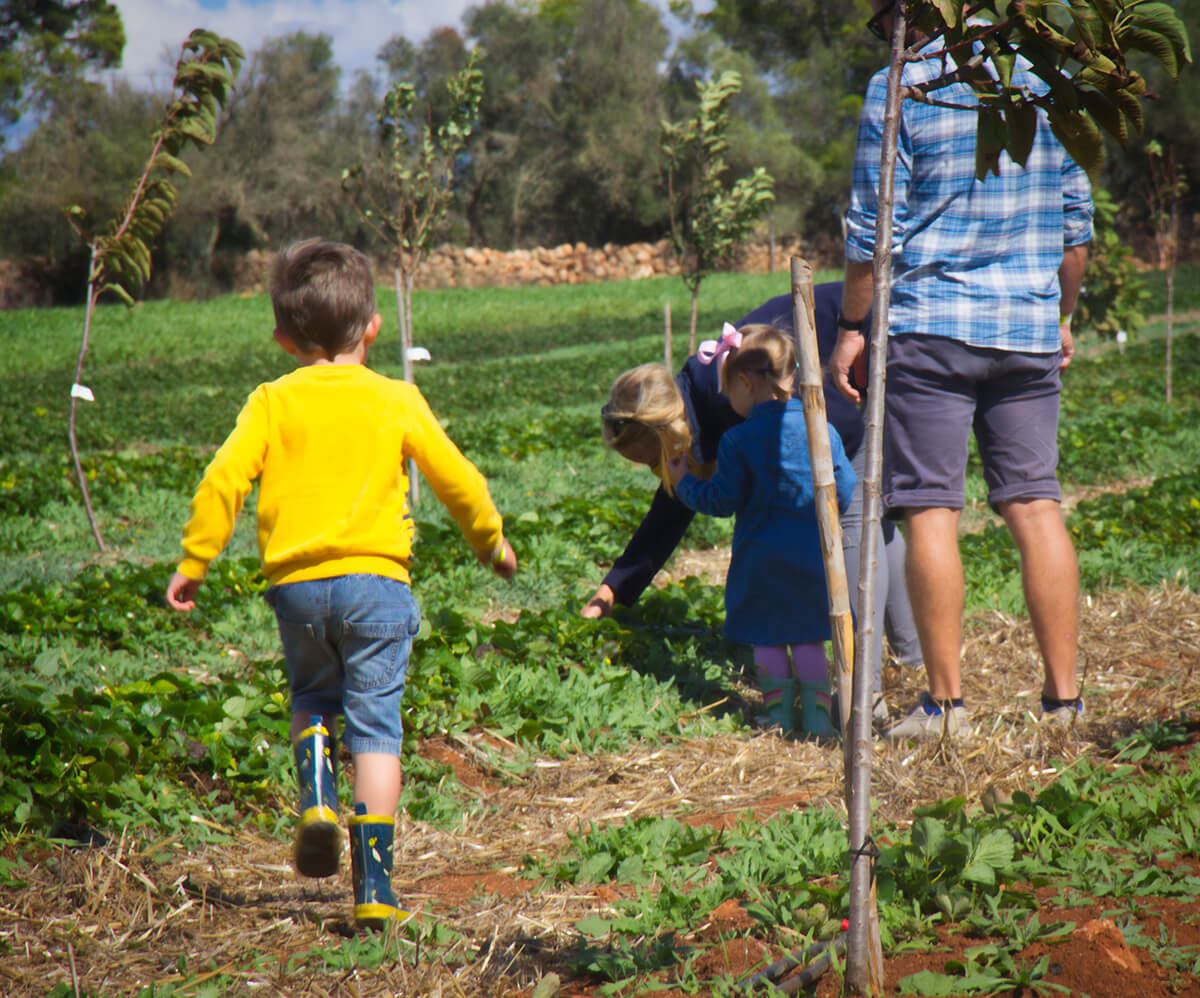 2 On a farm we learn something for life with every step we take
Learning by doing means: what we've experienced on our own will remain in our memory better than any theory. And we are not talking about the hot cooker top here. Children naturally feel at home outdoors. They are more receptive by choice and more motivated. This way, they automatically learn something with every look and every step – they don't even notice it. They are more relaxed because they are not under pressure to perform. Our animals help them to relax in a kind and subtle way, as they also get something in return: a treat, tenderness and a whole lot of hugs. And by the way,: there's no way out of our natural labyrinth for our kids without becoming real animal experts! Find amazing fun facts about our animals while playing hide and seek. Which creepy dinosaur our chickens are related to? Did you know that donkeys, once in love, stay together for life? Be sure the conversation at the dinner table will be all but boring after a day at Fresopolis!
However, the benefits of a visit extend far beyond the time spent on the farm. Children take their new skills and experiences home and to school, with parents, carers and teachers noticing positive and lasting effects on their behaviour, learning and self-esteem. See for yourself!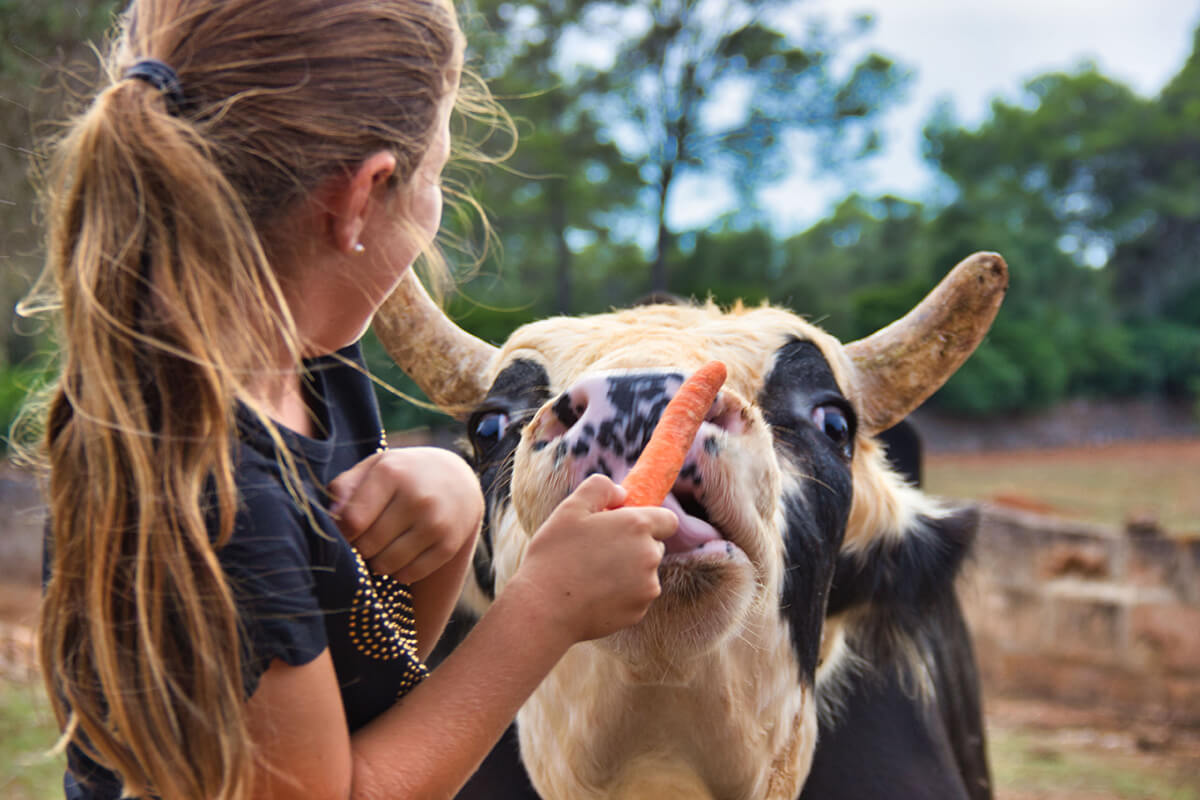 3 Interaction with animals strengthens children's self-esteem
Our goats, pigs, donkeys, rabbits, guinea pigs, peacocks, sheep and ponies don't care whether someone is big, small, fat, skinny, clever or clumsy. And our chickens don't laugh at anyone either. The only thing that counts for them is respectful, loving treatment – and that's what they judge us humans for. The response of the animal is more than a beautiful thank you: they'll make you feel needed and important.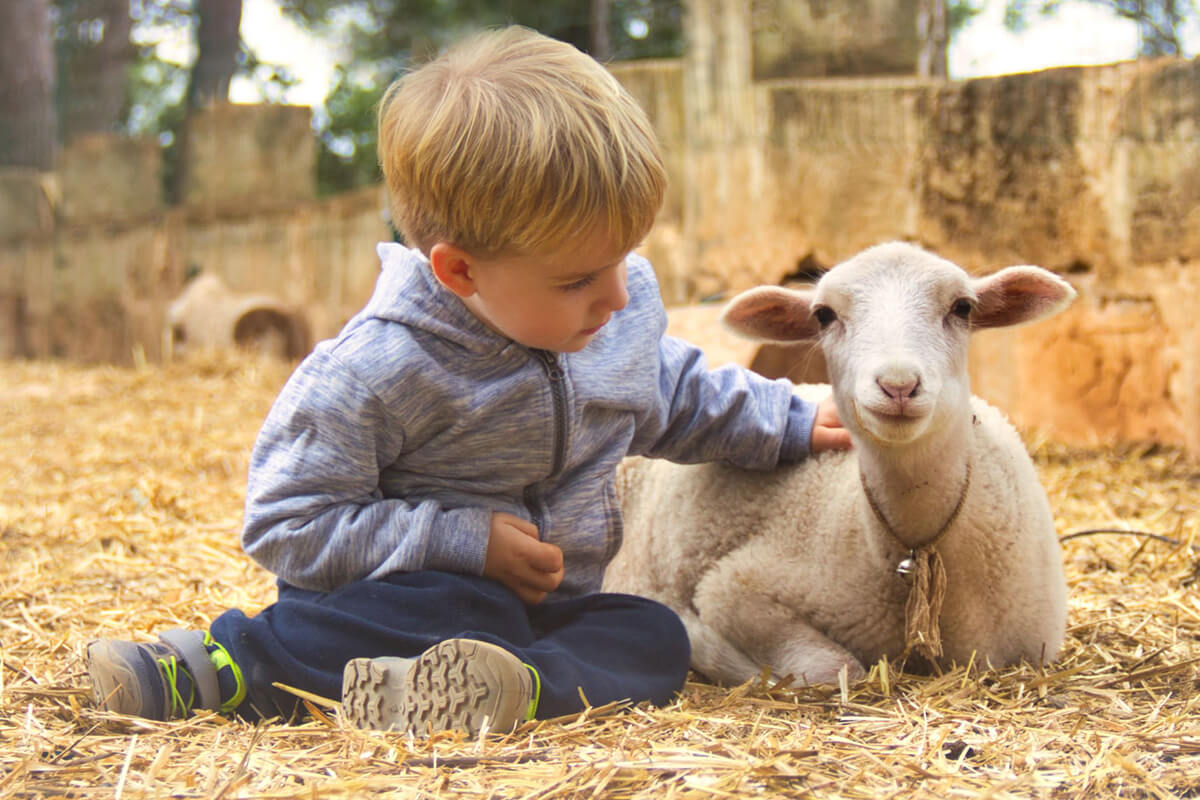 4 Interaction with animals is healing for the soul and promotes empathy
The fact that animals have a calming and healing effect on people has long been scientifically proven in numerous studies. Attention, now it's getting a bit technical: During contact with animals, the level of the "stress hormone" cortisone in our body decreases. At the same time, the "love hormone" oxytocin is released. The latter influences our social interaction and promotes physical relaxation. By the way, the so-called mirror neurons are responsible for the calming and mood-lifting effect on us humans of interacting with a relaxed animal that is well-disposed towards us. These are nerve cells that ensure that we are able to feel the way our counterpart feels. ¿Ever observed that another person's yawn makes you yawn right away as well? Well, that's what mirror neurons are about.
Back to practice: let yourself be infected by the calm and peaceful soul of our animals by meeting them warmly – you will see: they are able to put a smile on the face of even the biggest grump!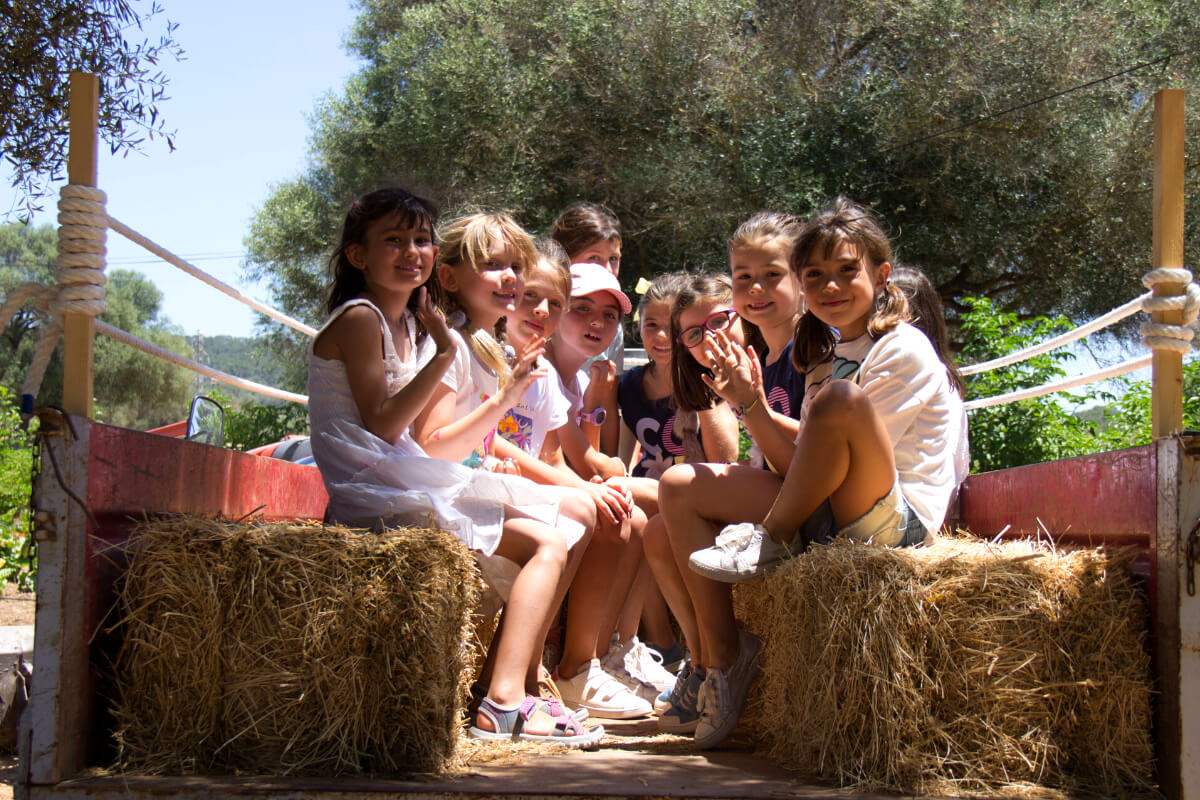 5 A visit to the farm promotes group spirit
Whether with the family, together with friends, as a birthday group or as a school class – whenever you play, plant, discover, have a laugh, marvel, take care of an animal, pick strawberries or enjoy a picnic together, it'll all have a positive effect on the cohesion of your group. Enjoy doing all this and much more with your loved ones at our school farm Fresopolis, group.
6 A visit to the farm creates closeness to nature
As humans, we are part of nature. To stay healthy and survive, we depend on it to remain intact. Each and every one of us is responsible for this. What can we do to protect our environment? Where does our food come from if it is not grown in the supermarket? Why is it so important to recycle waste, or better: to avoid it as much as possible? Where do eggs, milk, bread and chocolate come from? Our kids will find the appropriate answers to all these questions in an interactive and playful way on a day at a family farm like Fresopolis.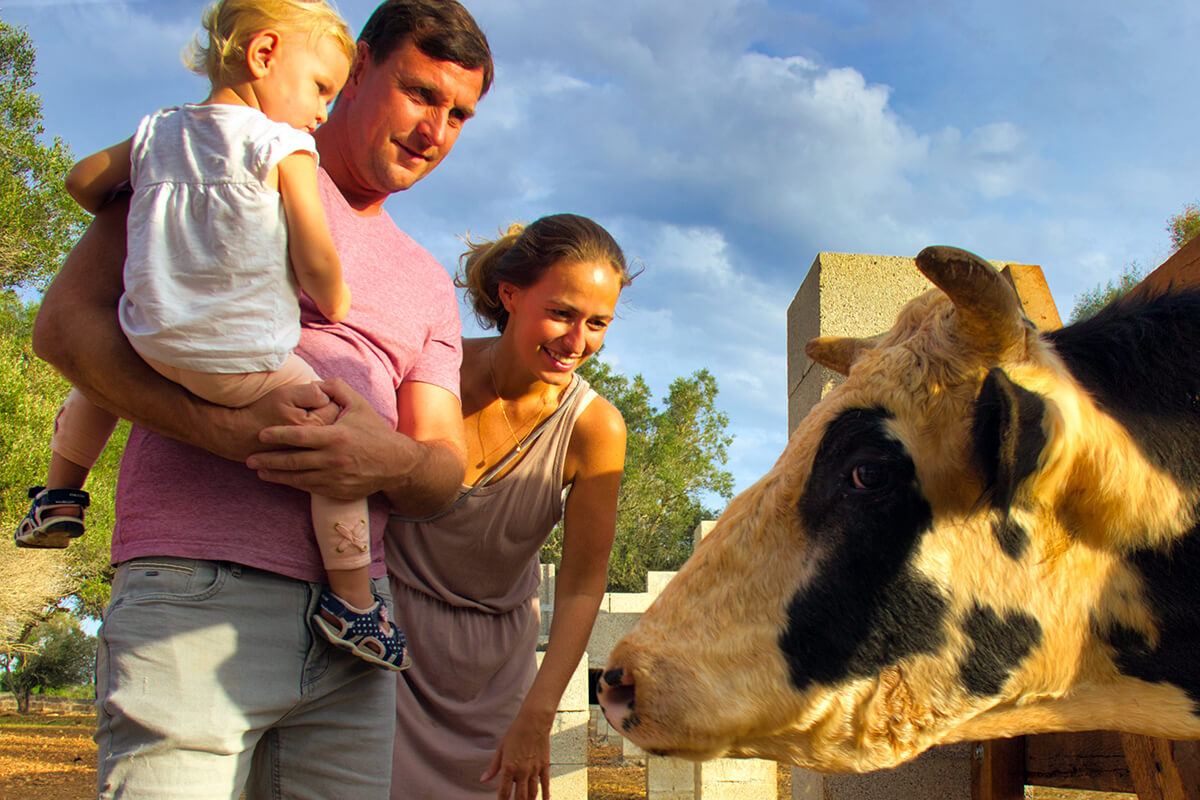 7 A visit to the farm promotes awareness of a healthy lifestyle
Not everything we find in the supermarket is good for us. And not everything we do promotes our health and well-being. Actually, the answer to the question of what is "good" for us is quite easy to find: it is what has allowed us to survive for millions of years. For our early ancestors, a quick trip by car to the supermarket was not enough to buy a piece of meat. They had to go hunting by foot and run for miles. And the meat they got from hunting was just enough to give them the power to go on hunting for survival. They fed on what they themselves had painstakingly hunted, gathered and harvested. Well, as you can imagine, there'll be no on our farm – our animals are lucky to enjoy a life in peace. But have a look at our vegetable fields, fruit and herb garden. Here's where our little ones can learn the long way good food has to make before it ends up on our dish. Maybe it will make us appreciate it a little more and be less wasteful with it.
At our family farm FRESOPOLIS near Palma, families, children's birthday groups and school classes have the opportunity to gain unique experiences with over 300 farm animals, to learn about exciting connections in nature in an interactive and playful way. Join our fun workshops, explore the prairie on a tractor tour, to pick and snack on delicious strawberries on our fields and yes – simply enjoy the pleasures a child dreams of. Of course, this also applies to our big guests!